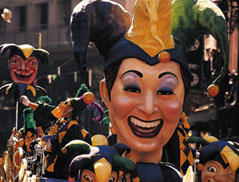 Here the traditional "Big Jester" leads the way to all the good folk here downhome where the sun still shines so warm and the breezes follow softly behind. For images of alot of our memories check out the photo galleries ...and don't forget to return often for the latest information on upcoming events. Choose the EVENTS option on the navigation dropdown or click on the left toolbar. Louisiana Lovers' Portal & Treasures builds upon a great festival season treating YOU! This season transforms the ordinary into scrumptuous sessions of musical sights and sounds!!! ...so take aim and hold on tightly!

Onward to great days of celebration and memory creation. "Putz awn dez 'appe faces and danzin' feetz" as we move with the city embracing an awesome year.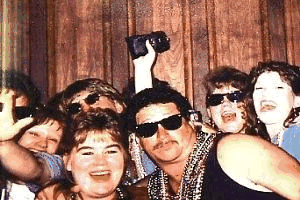 We're rollin' with "your kind" of New Orleans Jazz and Acadiana Zydeco. Go ahead now, make us a Bookmark (do it!) and please don't forget to return often. Tune in for some Burbon Street Jazz, by clicking on the WWOZ music links or on the toolbar link (please let me know if it's not working). We'd like you to continue your virtual tour and visit The French Quarter & MORE!!! ...find out a little something about almost everything New Orleans has to offer YOU!!!. Then you'll know why we say Louisiana is where you can "gaaa-ron-tee" an unforgettably memorable experience even if just to enjoy a Nice Cool Daquari.

COME ON BACK! Plan to come visit the banks of the Mississippi, where "Mark Twain" created his best works; ride the Riverboats and walk the Riverwalk. Find shopping at "world class" boutiques, salons, and shops along this noteably famous walk. It's all waiting for you to enjoy in New Orleans!